Poole Harbour
Poole is the second largest natural harbour in the world, with an interior coastline of over 100 miles and covering nearly 10,000 acres. It is a very shallow harbour and mariners are advised to stay within the marked channels, indicated by the red and green lateral posts or buoys, at all times within the Harbour to avoid running aground.

When approaching from the east, the high cliffs of 'Anvil Point' will be clearly visible. As you get closer the white chalk cliffs of 'Handfast Point', also known as 'Old Harry Rocks', come into view. The main Swash Channel into Poole is well marked and is usable day and night in all conditions. In very strong winds from the south or southeast it can become dangerous on the ebb in the vicinity of Poole Bar. The channel itself runs between the 'training bank' on the western side and 'Hook Sands' on the eastern side.
A small craft channel runs along the western side of the Swash Channel and is the recommended entrance for leisure vessels. It is marked on its western side by a series of lit and unlit red piles on the training bank and bounded on the eastern side by the red can buoys of the Main Swash Channel. Vessels using this channel should re-join the main Swash Channel between Number 8 buoy and Number 10 ready to traverse the Harbour Entrance.
A handy alternative to the main Swash Channel, for those coming along the coast from the east, is to head straight for the entrance via the East Looe Channel. This is well marked with port and starboard hand buoys and runs west over the sands before dog-legging round to the southwest close along the shore. It is quite shallow and should be navigated with caution and avoided by deeper draught vessels.
The Harbour Entrance is only 300m wide causing tides up to 5kn on an ebbing spring. Consult the tidal stream atlas and plan your entrance accordingly.
A Chain Ferry runs across the Harbour Entrance taking vehicles and passengers between Sandbanks and Shell Bay. The ferry has right of way over all vessels. When the ferry is about to cross a black ball is hoisted in the rigging and a white strobe light will flash on the mast.
After entering the harbour, the striking facade of Brownsea Castle will be clearly visible. There are many options available with regard to an overnight stop. Poole Quay Boat Haven is easily reached by following the Middle Ship Channel round to the north and then west until you reach the south cardinal Stakes buoy (Number 29). Follow the 'Little Channel' towards Town Quay and the entrance to the Marina is clearly visible on the right hand side.
Alternatively take the North Channel, leave the main ship channel at the 'Bell' Southerly Cardinal and proceed along the channel heading initially northeast and then bearing round to northwest. From this channel the Royal Motor Yacht Club, Salterns Marina, Parkstone Yacht Club, and Parkstone Bay Marina are easily accessible.
South Deep offers a sheltered spot for a quiet night at anchor. After passing through the entrance make a sharp turn to port between port hand buoy No. 14 and the east cardinal Brownsea and venture down the marked channel southeast of Brownsea Island.
You can't anchor in the channel but with care you should find deep water just outside it. Remember to pay your harbour dues which can be paid online at www.phc.co.uk
Navigational Hints: See Admiralty Chart 2611 or Imray Chart Y23.
Please note: Be aware of the chain ferry in the entrance to the harbour and a byelaw which states that all vessels must give way to the chain and use a motor if fitted when transiting the harbour entrance.
Contact: Poole Harbour Commissioners, 20 New Quay Road, Hamworthy, Poole, Dorset BH15 4AF. Tel: 01202 440200. Website: phc.co.uk
Poole Harbour Control
Tel: 01202 440230. VHF Channel 14 (vessels should maintain a listening watch from Bar Buoy inbound) Call Sign 'Poole Harbour Control'.
Poole Quay Boat Haven
Tel: 01202 649488 (Option 1). VHF Channel 80. Call Sign 'Poole Quay Boat Haven'.
Cobb's Quay Marina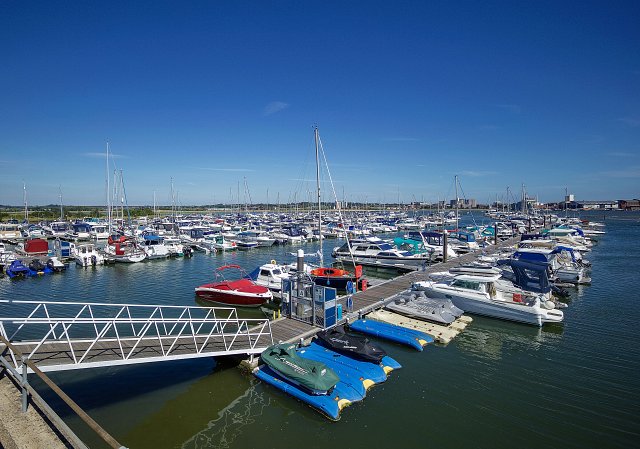 Cobb's Quay Marina at Hamworthy in Holes Bay lies in Poole Harbour, the world's second largest natural harbour. It has a lively, seafaring atmosphere, and with 1,109 berths it's a favourite with yachtsmen and motor cruisers alike. Out of the harbour to the east lies the Solent, offering year-round racing and sheltered cruising around the Isle of Wight. To the west is Studland Bay and Swanage, with its popular beach and white cliffs.
To reach Cobb's Quay Marina, enter Poole Harbour by the main Swash Channel from Poole Bar buoy; or from the east via the shallower East Looe Channel. Go up-harbour via the North Channel or Middle Ship Channel. Pass Poole Quay and transit the lifting bridges. Follow the buoyed channel to the marina.
Cobb's Quay offers 850 marina berths (max LOA: 25m) and 259 dry stack berths (max LOA: 10m); fuel (petrol/ diesel); gas; boat lifting and storage ashore; slipway; laundry facilities; restaurant and bar; jet ski pods; brokerage; chandlery; convenience store; electric vehicle charging; 24/7 self-storage facilities; and MDL Wi-Fi.
Contact: Cobb's Quay Marina, Hamworthy, Poole, Dorset, BH15 4EL. VHF Ch 80. Tel: 01202 674299. Website: cobbsquaymarina.co.uk
Salterns Marina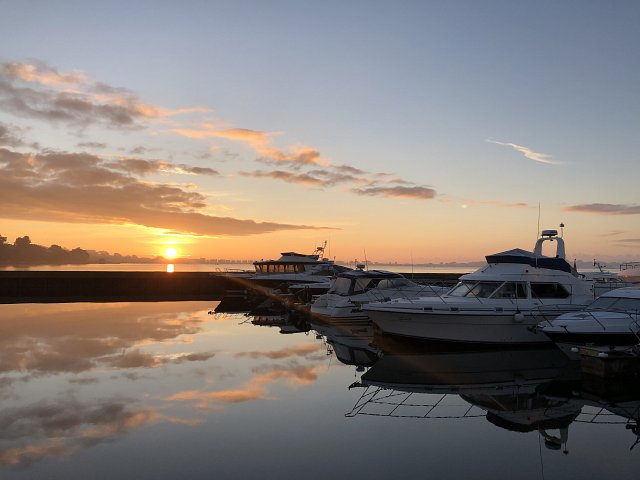 Salterns Marina – Located within the beautiful entrance of Poole Harbour this prestigious Marina offers permanent and visitor berths, swinging moorings, Versa dock and storage ashore. Customer car parking and full marina and boatyard facilities include 24-hour manned security, 24-hour fuel, showers and laundry area, private member's slipway, hoists, chandlery and a brokerage sales office. Call on VHF Ch 80 with call sign 'Salterns Marina'.
Contact: Salterns Marina, 40 Salterns Way, Lilliput, Poole, Dorset, BH14 8JR. Tel: 01202 709971. Email: marina@salterns.co.uk Website: salterns.co.uk
Lake Yard Marina
Lake Yard Marina is ideally situated in an area of outstanding beauty on the north western edge of Poole Harbour. The 44 berth marina benefits from deep water access at all tidal states and outside the marina entrance are 100 swinging moorings.
Lake Yard also has a fully equipped working boat yard and we offer a wide range of services including pressure washing, antifouling and polishing.
Access is easy by both sea and land. Approaching by sea, craft will need to pick up the Wareham Channel just past the Poole Ferry Terminal and Lake Yard is located just by WH3 and WH4 Channel Markers, between the distinguishable white buildings of Moriconium Quay and the Marines facility.
Contact: Dorset Lake Shipyard, Lake Drive, Hamworthy Poole, BH15 4DT. Tel: 01202 674531. Email: office@lakeyard.com
Please note, this information is to be used as a guide only and not for navigation.