Ryde Harbour
Ryde Harbour is located on the northeast coast of the Isle of Wight and enjoys excellent views across the Solent towards Portsmouth. The well situated harbour is protected from adverse weather conditions from most directions.
Known as 'the gateway to the Island' and a popular destination for families, Ryde Harbour lies next to long sandy beaches and is only minutes away from restaurants, a bowling alley, swimming pool, fun fair, skating rink, and a boating lake. Ryde Esplanade runs the full length of the seafront, followed by the sea wall promenade which passes the Canoe Lake and reaches as far as Puckpool Park to the east. Ferry connections to Portsmouth and Southsea are within walking distance.
The harbour dries and is only accessible to small craft approximately 2.5 hours before and 2 hours after High Water Portsmouth for a boat with 1m draught. Depth available is up to 2m on Springs. Ryde Harbour Master can be contacted on VHF Ch 80 Call Sign 'Ryde Harbour'.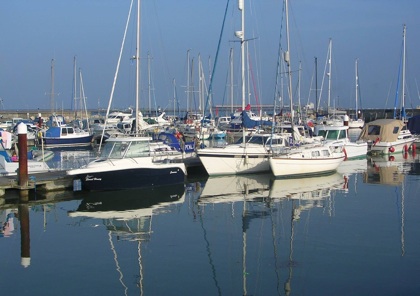 Approaching Ryde Harbour from the east, beware Ryde Sands (dries), either pass north of No Man's Land Fort or use the inshore passage between it and Ryde Sands beacons (lit port-hand markers). The drying channel at 197º across Ryde Sands is marked by three starboard-hand markers and three port hand marker unlit buoys.
Keep well clear of the hovercraft manoeuvring between Ryde Pier and the harbour, and the Wightlink high-speed ferries from and to Ryde Pier Head.
The harbour entrance is lit after sunset by two fixed red lights (vertical) on the port side of the Harbour entrance, and one flashing green light on the starboard side of the harbour entrance.
There is pontoon berthing for up to 100 visiting boats, the majority of which are family sailing and motor cruisers, varying in length from 5-10m. There are public slipways, showers and toilets close by, water on all pontoons, waste and recycling facilities, gas can be obtained from a local shop, and diesel is available from local garages. Boats may scrub alongside the harbour breakwater.
Contact: Ryde Harbour, The Esplanade, Ryde, Isle of Wight, PO33 1JA. Tel: 01983 613879 or 07970 009899. Email: ryde.harbour@iow.gov.uk. www.rydeharbour.com
Please note, information in this publication is to be used as a guide only and not for navigation.